You'll be in great company; thousands of customers already rely on us every day to host their services.

Highly Recommended
You'll be in great hands; our customers often regard us as "the best web hosting" company on independent review sites like Trustpilot.

One-Stop-Shop
No matter what your cause; we have an extensive range of products that will suit your needs, budget and requirements.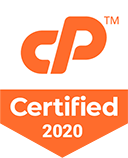 cPanel Certified
Our excellent support has not gone unnoticed; our company has achieved cPanel Certified Partner Status.

Established in 2009
We've racked up 14 years of helping people get online through our easy-to-use products and knowledgeable customer support.

Easy to Use
Our goal is to simplify the market; our products are designed for ease-of-use but are fully comprehensive, and we don't cut corners.
Rock-Solid Uptime
We use multiple load-balanced clusters and have multi-homed BGP network connectivity to ensure low-latency and redundancy.

Accredited Datacentres
Both of our Manchester datacentres hold leading certifications including ISO 27001, ISO 9001, ISO 14001, ISO 50001, and PCI-DSS.

Eco-Friendly
100% renewable energy powers our datacentres. We offset our office supply with solar power and export to the National Grid.

Flexible Contract
We don't tie you in; you are free to cancel at any time with no hidden fees. We offer a 30-day money-back guarantee with our services.