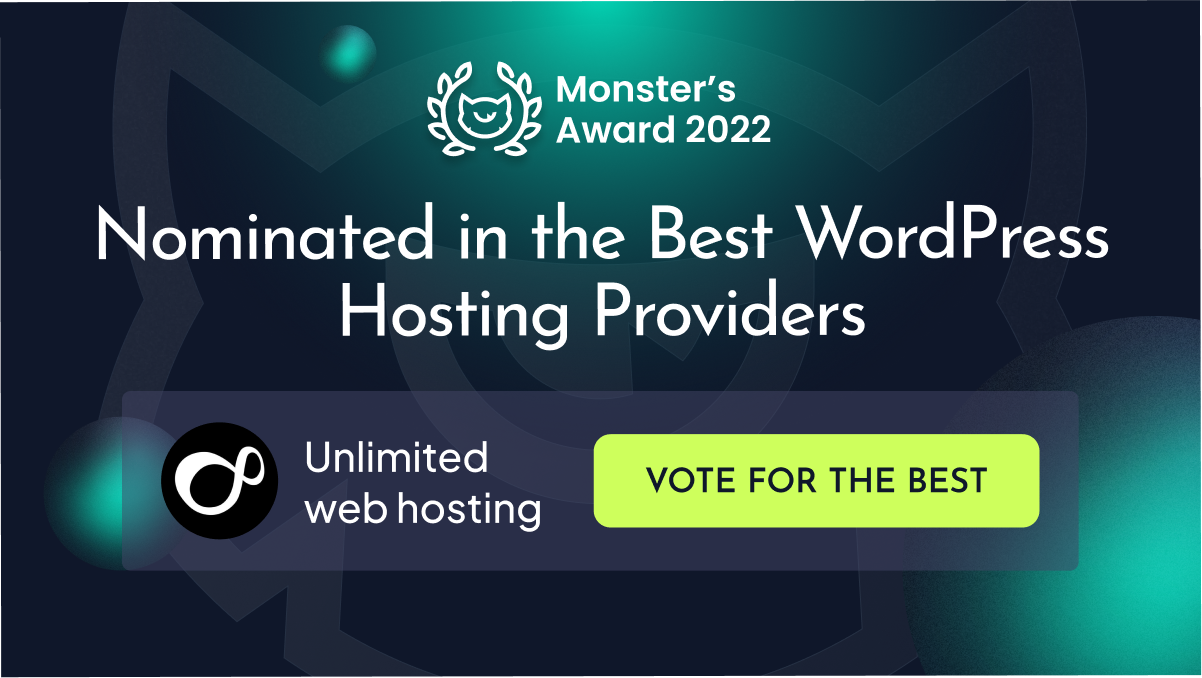 Unlimited Web Hosting Has Been Nominated for Monster's Award 2022!
Posted December 13, 2022 by Lee
When it comes to building a WordPress site, you can come across a lot of people who can be your assistants. With all of these variants, it is thought to opt for the right person or company for your goals. However, each of us can find a perfect match. Monster's Award 2022 is an annual event that makes it possible to share your love for WordPress-related experts with others.
What do you need to know about Monster's Award? In general, it is a non-commercial contest that has multiple nominations. Everyone can cast a vote and make sure their favourite product, service, or content wins. This year, the competition is all about people. People who always strive to improve the WordPress community. People who come up with innovative ideas to provide you with top-notch functionality. Now you can show that their efforts are worth your attention.
It is an honour to announce that our WordPress Hosting has also been nominated for Monster's Award 2022. Our category is Best WordPress Hosting Providers. We are delighted to know that our activity is widely noticed. What are the reasons our company gets attention? Perhaps these are the following characteristics.
It is a WordPress-optimized hosting that combines the latest PHP, OPcache, Gzip, and SSD. As a result, you will get a lightning-fast online project.
Furthermore, you will get free SSL certificates for LetsEncrypt. Thanks to them, it is possible to safeguard your data and site's security better.
It also provides unlimited bandwidth. It will be valuable for small businesses and bloggers who get a lot of traffic.
There are different plans to choose from. With the first year of our Premium WordPress plan, you will get a free uk. or co.uk domain name registration.
Our support team consists of experts who are always ready to solve your issues.
Other benefits include automated daily backups, automatic installation, and unlimited staging sites.
Finally, our server infrastructure runs on 100% renewable energy.
Choose the Most Powerful and Secure WordPress Hosting Provider With Monster's Award 2022!
Categories: WordPress
About The Author
Lee is a Website Developer at Unlimited Web Hosting UK Limited.