Free Ecommerce Plugins for WordPress
Posted July 13, 2016 by Unlimited
There are a number of free to use plug-ins that you can use with WordPress to get your eCommerce website up and running, in this blog post I'll be taking you through some of the best that are out there.

WooCommerce
WooCommerce is the most popular WordPress free eCommerce plug-in, and is often cited as a good alternative to Shopify. Packed full of high end features, this is a powerful and highly customisable plug-in.
There is a huge collection of free and paid for themes and extensions that support WooCommerce, so getting a shop setup with the look you are after is fairly painless.
A number of big name brands use WooCommerce for their eCommerce websites, including Harley Davidson and Cosmopolitan, currently around 18% of all eCommerce sites on the web are powered by WooCommerce.
Some of WooCommerce's key features include:
PayPal Standard integration
Sales and review reports
Multiple shipping options
Inventory management

Read more about WooCommerce on the WooCommerce plug-in page.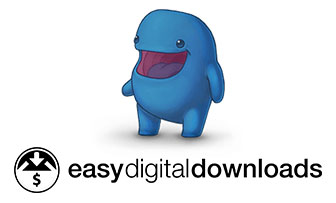 Easy Digital Downloads
Easy Digital Downloads, as the name suggests, is an easy to setup eCommerce plug-in for selling digital downloads. EDD has a small lightweight footprint, and provides you with a streamlined selection of useful features. Included in these features is a powerful reporting system that uses data tables and interactive graphs, which enable you to easily analyse your earnings.
The Easy Digital Downloads plug-in is built to the WordPress Coding Standards, which makes it very developer friendly. Modifying the EDD code base is easy compared to other eCommerce plug-ins, and there are more than 200 themes and extensions currently available that can be used to modify your eShop.
Read more about Easy Digital Downloads on the Easy Digital Downloads plug-in page.

WP eCommerce
WP eCommerce is a powerful yet easy to use plug-in, that allows you to custiomise the HTML and CSS. This gives you full control over the look and style of your store.
The plug-in supports the sale of physical goods, subscriptions and digital downloads, and makes online selling easy.
WP eCommerce integrates perfectly with dozens of payment methods, and features a streamlined checkout which increases the conversion rate and sales on your site.
Read more about WP eCommerce on the WP eCommerce plug-in page.
Ecwid
One of the best features of the Ecwid eCommerce plug-in is that it can be integrated into your existing WordPress site quickly and easily.
The eShop can then be mirrored if you plan on selling in more than one place, and these shops can then all be managed from one admin panel.
The Ecwid plug-in also syncs between multiple devices, so you can sell on the go from your smartphone and the sales will be recorded in the admin area of your site.
Read more about Ecwid on the Ecwid plug-in page.
Which plug-in do you prefer for your WordPress eCommerce solution? Are there any plug-ins that you would not recommend? Let us know in the comments below!
Categories: WordPress