How do I set up a mailing list?
A Mailing list is a very useful tool when trying to communicate duplicate information with a large number of email contacts.
An example of this could be a discount offer made to the existing customers of an eCommerce site. This type of direct marketing helps you better engage your customers, providing an improved quality of service.
By opting in or subscribing to your mailing list a customer is consenting to being contacted in this way. It's vital that you ensure all of your contacts have consented otherwise you will be in breach of our general terms.
Mailing lists are a great feature and when utilised properly can add real value to your existing marketing strategy. However, use them wisely creating spam lists could result in your account being suspended.
cPanel Mailing List Setup
Firstly, login to your cPanel control panel.
Once you have logged in, under the email section click "Mailing lists". 

Now, configure your list using by enter the following: a list name, a password and whether this list is either "Public" or "Private".
After you have configured the list Click "Add".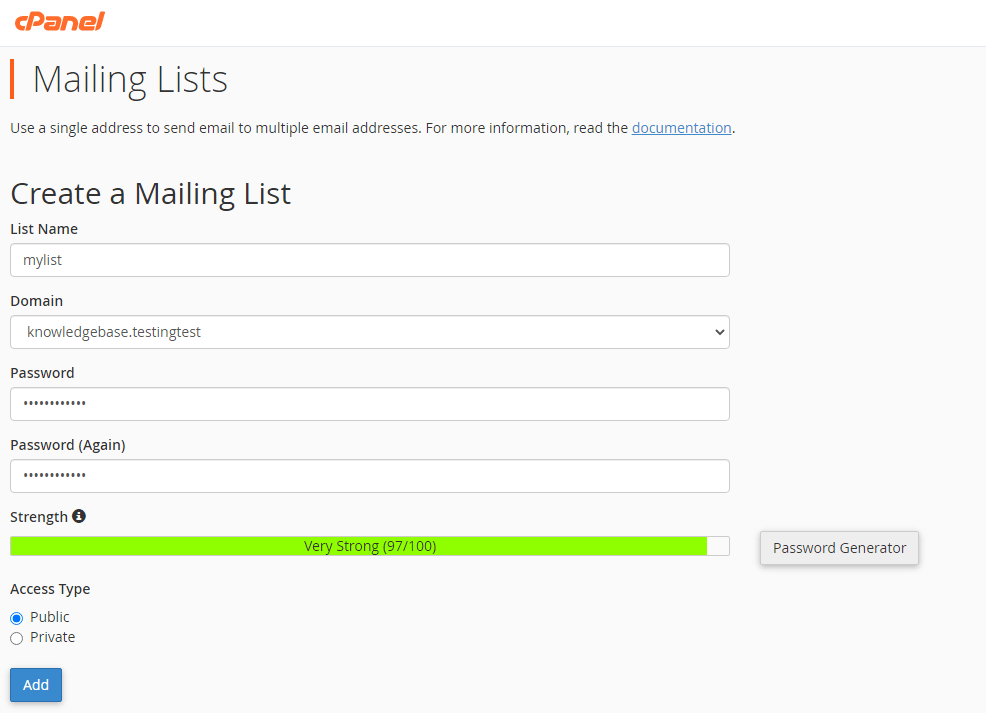 If successful a green message box. If you have any issues please get in touch with our support team.
You can now manage mailing lists within the same tool, clicking the manage button or adding delegate accounts through the delegates button.