How do I set up a mailing list?
Warning: Misuse of mailing lists will lead to suspension and manual action.
Mailing lists are a great feature when correctly utilized. They add real value to existing marketing strategies, allowing for further retention.
However, there are a few caveats:
Malicious use. Which includes sending out spam mail, will result in an account suspension. This is because by sending out spam mail, you could damage our IP reputation and impact email deliverability.
Unauthorized use. Data protection laws are not new, sending mail to customers without consent or not allowing them to remove consent is spam.
Issues with mail deliverability? Learn more about spam.
Mailing lists are great for trying to communicate duplicate information en masse. Many businesses use mailing lists across their organization without any issues. From notifying staff about office updates to sending out email marketing campaigns, mailing lists aid efficiency of business processes.
A more specific example of mailing list usage would be direct marketing campaigns. For instance, the existing customers of an eCommerce site get exclusive discount offers via a mailing list. This example helps a business better engage its customers and provide an improved quality of service.
An example of this could be a discount offer made to the existing customers of an eCommerce site. This type of direct marketing helps you better engage your customers, providing an improved quality of service.
Create a mailing list in cPanel
Firstly, login to your cPanel control panel.
Afterwards, navigate to the email area and, click on mailing lists. This will take you to the mailing lists tool.

Then, to begin configuration of your list. You will need to populate the different fields including: list name, domain, username, and password.
When creating a password in cPanel, we recommend using the inbuilt password generator. It creates truly unique, strong passwords that instantly fill all the needed fields.
Next, the access type is setting is entirely up to you. Public access type mailing lists have public archives and anyone can subscribe themselves. Private access type mailing lists have private archives and subscribers must be approved by an admin before they can join.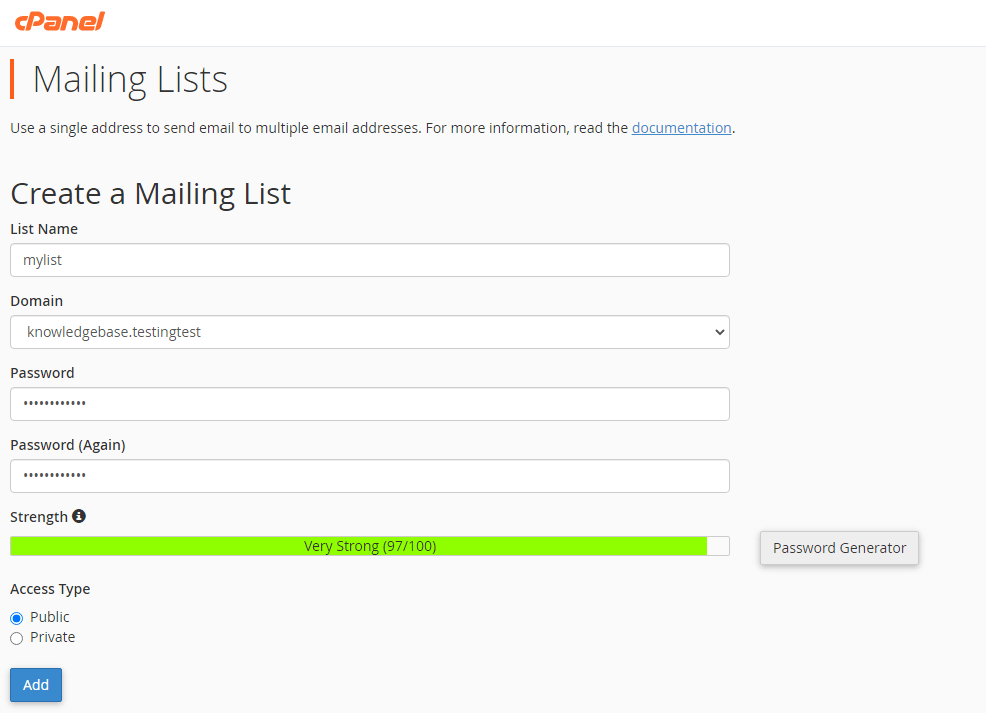 Finally, click add. This will test your mailing list, it should show a green message box if it is successful.
Manage your mailing lists in cPanel
After you have created your mailing list, you can manage it in the same tool.
Delete, to delete the selected list.
Change Password, to change the password to access the list.
Manage, to manage the emails in the list.
Delegation, to manage which users are admins of the list.
Delete, will remove the list and any related information. Including all archives and email addresses.