How do I create addon domains?
By creating an addon domain you can add additional domains to your existing hosting package. This is great for when you want to have more than one website on your hosting package but don't want a reseller package.
Using the same hosting package for additional sites can be a cost effective way of web hosting. However, due to the nature of hosting. You would likely be better off using a reseller account to benefit from the added security of CageFS.
Addon domains in cPanel
Login to cPanel control panel.
Click on Addon Domains in the Domain section.

Enter the domain name into the "New Domain Name" field.
Both the "Subdomain" & "Document Root" fields will automatically populate. [If you wish to add an FTP account please continue, if not please click "add domain".]
Click the checkbox, "Create an FTP account associated with this Domain".
Enter a username.
Enter a password or generate one. Making sure to save the password in a safe place.
Click "add domain"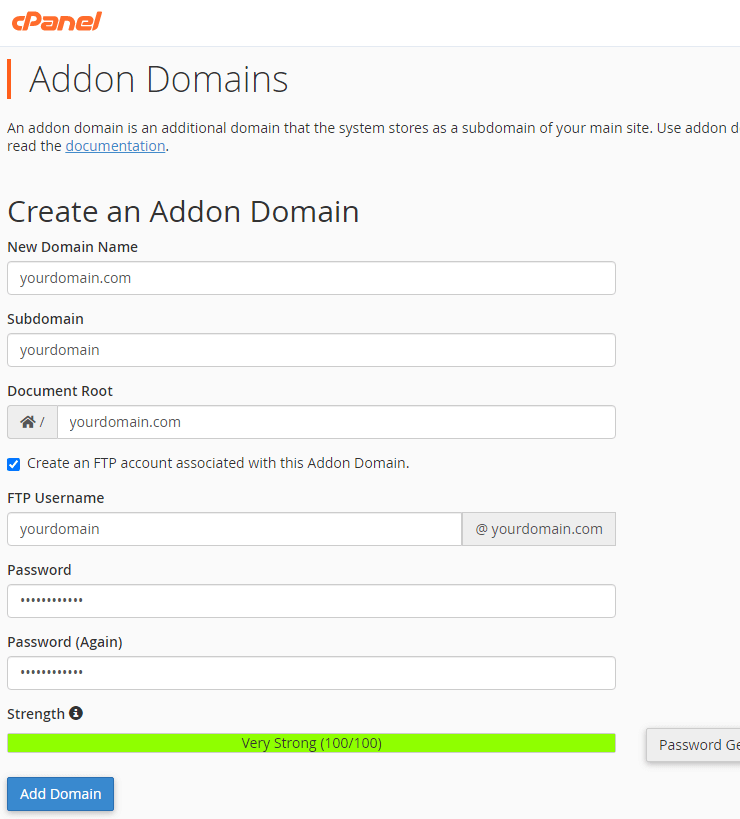 Plesk
Login to Plesk
Under "Websites & Domains" click "Add domain"

If you already have a domain, enter it into registered domain name. If not select temporary domain name.
The "Webspace" field should be populated with your account name. If not use the inbuilt search function to select your account.
Click "Add Domain".